UCSD TANGO Classes, Workshops, Practicas w/ Isabelle and Florentino
We offer beginner, intermediate, and advanced grou classes as well as special workshops for those wishing to improve their Tango vocabulary, technique, and improvisation. We also assist the UCSD Tango Club Practica every Tuesday night after the class.All Recreation Program classes are open to anyone who rgisters. No partner required. Register Online!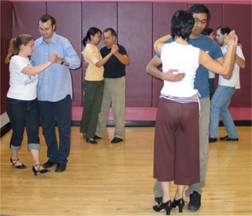 Beginning Jan. 18th
Beginning Argentine Tango: Fundamental Technique
6:00 - 7:00 PM Friday, 01/18/2013 - 03/08/2013
$34 Student-RecCard/$45 community
RIMAC, UCSD Class #446
Leading and Following, Navigation, "Milonga" Etiquette, Connection, Torque, Suspension, Pivots, & Parallel and Cross-walk. No experience necessary.
NOTE: there will be a 1/2 hour practica between the two classes.
Intermediate-Advanced Argentine Tango: Popular Moves
7:00 - 8:00 PM Friday, 01/18/2013 - 03/08/2013
$34 Student-RecCard/$45 community
RIMAC, UCSD Class # 495
Use the fundamental concepts to easily execute the most popular tango movements and enhance your ability to dance socially by adding variety to your tango repertoire. Moves may include ganchos, boleos, molinetes, lansamentos, giros, lapis, embellishments, leans, and displacements. Requires mastery of basic technique.
NO PARTNER REQUIRED!
PRIVATE LESSONS
Private and Small Group Lessons Available at the UCSD Rate by Arrangement. 1 -4 people same rate.. You need to pre-register for a private class to obtain the UCSD rate. Contact Florentino or Isabelle at 858-453-9680 or email us at florentino@tangoconcepts.com.
MAP / DIRECTIONS:
RIMAC: UCSD Map Online Tool
DIRECTIONS:: From Interstate 5 - exit at Genesse Ave. go weest. Turn left at North Torrey Pines Road. Go to Pangea Drive and turn left. The parking structure is on your righ. It is easier to turn left on Scholars Drive and enter from the East side of the parking lot. Don't forget to get your parking permit! Parking is free on weekends.
Recreation Gym/Rec. Conf. Rm: UCSD Map Online Tool From Torrey Pines Road, turn into UCSD at the intersection of Muir College Drive and Torrey Pines Road, then use the map for navigation.
PARKING:
If you are driving you will need to purchase a permit or use the parking meters. Hourly permits can be purchased at the permit-dispensing machine in lot P303. Parking rate is $1 per hour until 11 pm. Parking is free after 11 pm and on the weekends.
REGISTRATION:
WALK-IN/DROPP-OFF REGISTRATION: Register in person at the RIMAC Sales Desk (M-F 8 a.m.-6 p.m.) You can also register the before the class or during the first class.
ONLINE REGISTRATION: Register online via the new easy to use UCSD Recreation Website Dance page. Select the class(es) complete the registration process and complete the shopping cart process.